7 Almond Milk Smoothie Recipes For Weight Loss
In this post we list 7 tasty almond milk smoothie recipes. As the name suggests all almond milk is made of almonds. It's a dairy-free creamy alternative to cow milk.
It is very beneficial for your well-being because it contains tonnes of antioxidants and vitamins. It also consists of fiber and protein which is very beneficial for your healthy body.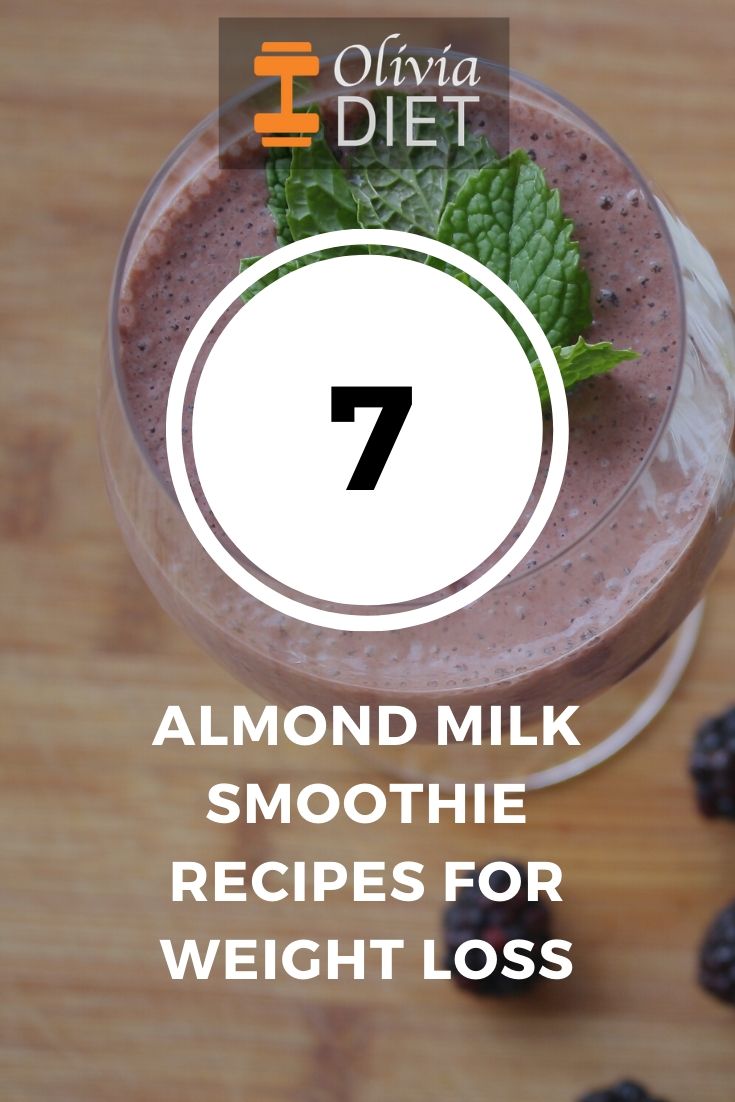 It is very low in Calories and nearly zero in fat. It is the best ingredient in a smoothie for those who want to burn their fat. Regardless of whether you need breakfast in a hurry, an evening lift me up or a fantastic desert; we have a smoothie recipe with almond milk for each need.
1. Easy Peasy Smoothie
If you are completely new to smoothies with almond milk then this is very easy and simple smoothie for you to prepare. It is full of antioxidants and will keep you full for longer and also it is very low in calories. Win-Win situation! right?
Ingredients
50g strawberries
50g blueberries
200ml almond milk
100g Greek yogurt (fat-free)
Instructions
Through all the ingredients in the blender and blend it until smooth.
If you want it to be Dairy free, then you can simply swap Greek yogurt for a banana to give it a same creamy texture.
2. Morning Sparking Smoothie
This breakfast smoothie gives you the boost of energy which your body needs in the morning. The taste of ginger and lime combined with the sweetness of fruits, make this smoothie delicious and get you ready for the day ahead.
Ingredients
A handful of ice cubes
200ml almond milk
A squeeze of lime juice
50g strawberries
50g mango
1/4 teaspoon ginger (grated)
Instructions
Blend all the ingredients together. You can squeeze lime on the top of smoothie after it is prepared.
3. Wheatgrass Smoothie
Wheatgrass consists of antioxidants, vitamins that is a perfect suit for a kick of energy. Wheatgrass helps you to Boost Your metabolism and lose weight. Wheatgrass also detoxifies your body and remove all the environmental chemical from your body. It is very beneficial for adrenal glands and thyroid, that improve your sleep and reduce stress.
Ingredients
200ml almond milk
50g blueberries
A handful of spinach leaves
10g wheatgrass powder
1 banana
Instructions
Through all the ingredients in the Blender and blend. This smoothie is gluten free as well.
4. Choco Moco Smoothie
This smoothie is for chocolate freaks. Coco is having high levels of minerals in fibres which is the best fit for those who Crave a sweet treat.
Ingredients
2 tablespoons raw honey
2 scoops cacao powder
4 Medjool dates
200ml almond milk
1 banana
Instructions
Remove the seeds from the dates before blending it with banana and cocoa powder.
Blend cocoa and banana together then add almond milk and honey. Now blend it until smooth.
5. Avocado green smoothie
This smoothie is packed with good fat that helps your body to observe vitamins more effectively.
Don't be afraid of all these vegetables. Blend all the ingredients all together. You will not taste vegetables in this smoothie because of the perfect blend of fruits and vegetables.
Ingredients
200ml almond milk
2 tablespoons raw honey
50g blueberries
Handful Spinach
Handful kale (stems removed, and chopped)
1/2 medium avocado (peeled)
Instructions
Blend all the ingredients together until smooth. Make sure that you remove kale stalks during the preparation.
6. Pink Super Smoothie
Goji berry is the best ingredient to Boost Your immune system. Many studies suggest that it prevents many heart diseases.
This smoothie combines Goji berries with antioxidant-rich other berries and with beetroot. This combination makes this delicious and low-calorie super smoothie.
Ingredients
200ml almond milk
30g raspberries
30g beetroot
3 Medjool dates
20g goji berries
40g strawberries
Instructions
Remove seeds from the date then blended the rest of the ingredients until smooth.
7. Nuts desert Smoothie
This sweet delicious smoothie is the perfect alternative to a milkshake. Nut butter provides you with good fats and Omega 3 fatty acids that help your body to absorb minerals more effectively.
Relax and drink this smoothie without harming your weight loss results.
Ingredients
2 tablespoon raw honey
50g fat-free Greek yogurt
200ml almond milk
1 banana (frozen)
2 tablespoons 100% natural nut butter
Instructions
You need to freeze one banana in advance. Then blend all ingredients together until smooth.
For a Dairy-free and vegan experience, you can skip the yogurt and swap honey for maple syrup