Last updated on January 12th, 2023 at 09:38 pm
Treadmills are great for exercise. You can use a treadmill anytime, in any weather. And you don't need to worry about running near unfriendly Pitbulls off their leash or being hit by cars not watching out for joggers.
But there is one big problem, and that's protecting your floors, particularly if you have a hardwood floor, which can not only be scratched but kick-up dust into the works of your not inexpensive treadmill. 
It would help if you had a protective floor mat. But which one do you buy? Here's a list of our favorites, all available on Amazon:
1. Yes4All Interlocking Exercise Foam Mats with Border
These foot-long and foot-wide foam tiles are available on Amazon at Yes4All Interlocking Exercise Foam Mats. Which are half an inch thick and easily snap together in less than 5 minutes. 
Available in black or grey, you can purchase a 12-square-foot Yes4All mat for a very low price. This will give you a nice 4-foot by 3-foot mat. And if you need a larger area, you can attach three complete sets of tiles. 
Yes4All interlocking mats are very easy to clean. They make a great yoga mat or exercise mat. And on top of protecting floors from your treadmill. 
2. Rubber-Cal Treadmill Mat 

Our next treadmill mat is the Rubber-Cal Treadmill Mat, available from Amazon at Rubber-Cal.
Customers find these oversized treadmill mats do an outstanding job of cutting down the vibrations and the noise a treadmill makes. While at the same time doing a serious job of protecting floors. 
Made of environmentally friendly recycled rubber, these tough mats will likely outlast your treadmill.
3. XtremepowerUS Home Exercise Protective Mat 
Another interlocking treadmill/exercise mat with larger tiles is Extrmepower Us treadmill/exercise mat. 
The XtremepowerUS treadmill mat consists of 4 2-foot by 2-foot interlocking panels. So you can cover 16 square feet of space and interlock them together in under a minute. 
Reviewers report the XtrmepowerUS mat has just the right amount of spring and density to make them a quality treadmill mat at a discount price. 
4. AmazonBasics High-Density Exercise Equipment and Treadmill Mat 
This Amazon Choice treadmill mat Amazon Basics Treadmill Mat comes in three sizes, a 2.5 x 6-foot wide model, a 3 x 8.5-inch model, and a 4 foot x 6-foot model. So you won't have trouble finding the right-size treadmill mat.
A few reviewers complain that the mat, which is only .2 inches thick, is a bit thin for their taste. But others say it's just the right thickness to lay flat and stay put while protecting their wood or tile floors.
5. Motion Tech Treadmill Mat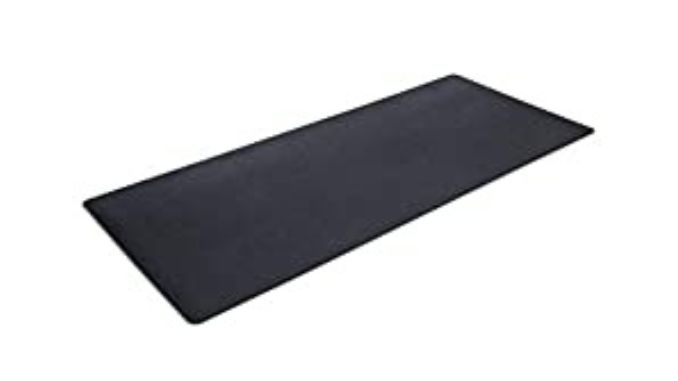 Coming in 6 different sizes, from 2 feet by 4 feet to 3 feet by 7 feet, Motion Tech's treadmill mats, the Motion Tech Treadmill Mat is among the most popular of Amazon's treadmill products.
Easily washable, this somewhat thing mat is remarkably tough and seems to work well for people who want a treadmill mat for carpeting or hardwood floors.
Motion Tech mats not only protect your flooring and reduce vibration, but they stay in a place like a champ. And they are made of solid rubber, not foam. 
6. Supermats 
Made of high-density, quality rubber, Supermarts Supermarts High-Density Commerical Grade Mats are just that, commercial grade. 
Perhaps Amazon's most reviewed treadmill/rower mat, Supermarts, is relatively thin but quite heavy. They stay in place long enough to fit most treadmills, with room to spare.
One reviewer said, "The bottom line is that this is a superbly manufactured mat that will protect your flooring. It can be used with any exercise equipment and is extremely durable."
7. Forest Floor Interlocking Floor Mats 
Want a floormat for your treadmill/exercise machine that comes in more colors than black or grey? Look no further than Forest Floor, found on Amazon at Forest Floor.
Forest Floor sells interlocking foam floor mats in cherry, light bamboo, light cork, mahogany, white oak, and walnut. And you can buy the interlocking tiles in 2-foot by 2-foot styles to cover 16 square meters. Or go crazy and do an entire room covering 200 feet. 
Mind you; most people use Forest Floor for temporary flooring of a sunspace or garage. But the titles are just as functional for an exercise room, and the look is classy. 
8. Marcy Fitness Equipment Mat 
Suppose you're looking for a basic floor mat for your treadmill and don't want to spend much money. Try looking at the Marcy Fitness Equipment mat.
There's nothing particularly unique about this 3-foot by 6.5-foot foam rubber mat to protect the wood and laminate floors. As well as offer a little cushion if you drop a dumbbell onto the floor. That's good enough for many customers, who often order two. 
9. Revtime Treadmill Mat 
This thin but very strong treadmill mat just waters expect it to: lie on the floor and protect your 300-pound treadmill and maybe your 200-pound body from scratching your hardwood or laminate floors. 
The 6-and-a-half by 3-foot mat runs under $70 plus shipping from Amazon and is found at RevTime Treadmill Mat.
For its price of around $70 plus shipping, RevTime seems to be pushing the price barrier a bit, but reviews of the Revtime Treadmill Mat show Amazon customers are generally satisfied. 
10. Go-fit Treadmill Exercise Mat 
The Go fit is rated number three among all of Amazon's best exercise mats, and of those, this is the highest-rated treadmill-type mat. 
The first thing that jumps out to you when examining this treadmill mat is that the manufacturer offers a two-year warranty on the product, which is extremely hard to find in treadmill mats. They also offer a guaranteed 100 percent customer experience through Amazon.
And all this for a product that retails on Amazon for under $30 plus shipping! It's no wonder the Go-fit Treadmill Mat has 810 reviews, 86 percent of which are 5-stars.
Located on Amazon at Go-fit Treadmill Mat, this 3-foot by 6.5-foot mat is extremely easy to clean and seems to be the right size and at the right price for almost everyone. 
11. Prosource Fit Extra Thick Puzzle Exercise Mat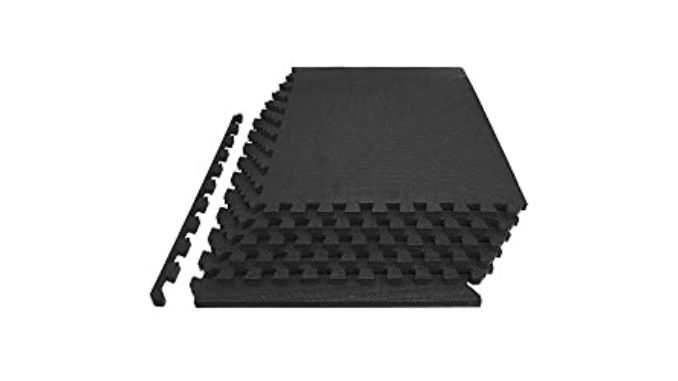 Another puzzle-piece foam mat with a remarkably one-inch-thick floor, you can buy the Prosource mat from Amazon for 36 dollars plus shipping at Prosource Fit Extra Thick Exercise Mat.
Also, in Amazon's top 10 for exercise mats, for your $36, you get six 2-foot-by-two food foam tiles, plus end borders, to give your mat a polished look. 
The mats are made of high-density EVA foam, which is generally considered environmentally friendly and has a non-skid surface on the top to avoid tumbles. 
12. Gxmmat Extra Large Exercise Mat 
Another product to consider is the Gxmmat, a multi-dimensional exercise mat. 
At 6 feet wide and 8 feet long, this mat, which is 7 mm thick, is a perfect size for two exercise machines instead of one or to use as a yoga and dance platform. 
Number 25 on Amazon's list of exercise mats is the Gxmmat at Gxmmat Extra Large Exercise Mat.
The large space of the mat, the comfortable padding, and the fact that these mats were designed to work out on with shoes make the price seem reasonable. Many people buy them to create a small home gym while protecting their floors, and GXmmat has many five-star ratings. 
Conclusions 
Exercise buffs who want to protect their floors gravitate toward these exercise mats. The risk of damaged floors within your home gym is too much abuse toward permanently damaging your tiled or hardwood floor, particularly when a small investment of $25 to $75 will permanently solve the problem. 
However, the many creative uses people buy exercise mats are unique to the subject. Some people love the look and feel of creating a completely indoor gym in their garage or basement with a dozen or two interlocking rubber pieces. At the same time, others came up with other uses.
People frequently line kennels with interlocking tiles to protect against dogs or cats scratching the floors. At the same time, others love their use as padding for children's playhouses (certainly much easier to clean than carpet) or lining their kitchens or workspaces with foam or rubber tiles to avoid knee and back straining while working in the house.
One enterprising individual even totes pad foam rubber padding along on camping trips to use on the flooring of his tent. Whatever your use, treadmill mats and exercise mats can be a lift in protecting your floors while enhancing your lifestyle.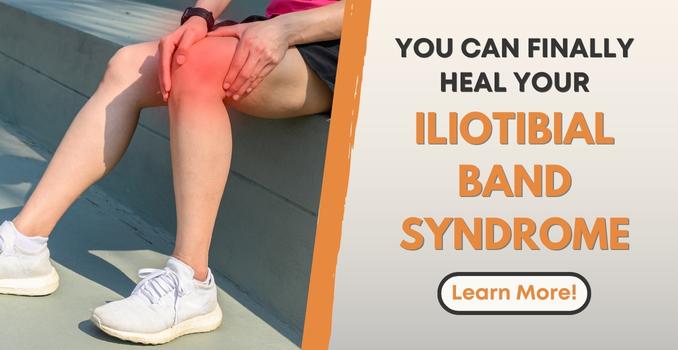 ---
Rick Kaselj MS, is a leading kinesiologist and injury specialist as well as co-creator of the best-selling Unlock Your Hip Flexors program. Rick creates exercise programs that help people heal injuries and eliminate pain, so they can go back to living a full, active, healthy life.