Last updated on January 11th, 2023 at 05:53 pm
In the market for a brand-new treadmill to complete that glorious home gym you've been working on. Or perhaps you're just starting your fitness journey and don't want to shell out loads of unnecessary cash on a single treadmill. Look no further; you've come to the right place. Our top picks for the best treadmills under 1000 dollars will not only help you sweat it out at home, but they'll also leave your wallet happy. 
1. Murtisol 1100W 
Price: $$
The Murtisol 1100W folding treadmill fitness machine has a slew of great features for an incredibly low price. Not only does this highly praised fine piece of equipment come with an awesome LCD to track and monitor your health during use, but it also requires no expert assembly and takes up little room in your home with its easy foldable design.
The smart and convenient design includes safety handles to help you better control your speed and incline throughout your workout. Customers give this treadmill 4.3 out of 5 stars for its space-saving ability, easy assembly, and incredibly low price. 
2. XTERRA Fitness TR150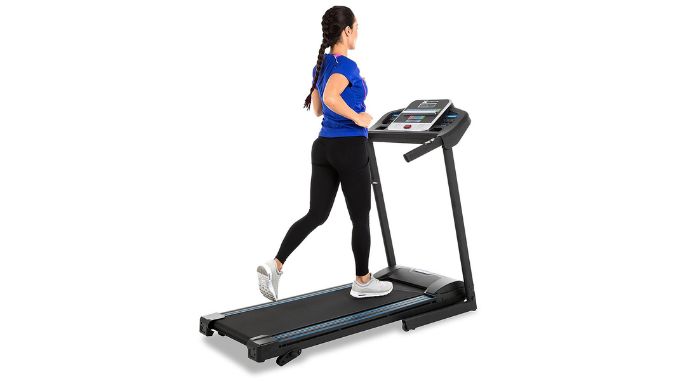 Price: $$$
The XTERRA Fitness TR150 folding black treadmill offers a large walking/running surface of 16 by 50 inches and an incredible speed range of 0.5-10 miles per hour to match any user's fitness level. You can also access XTERRA's 12 varying programmed workouts to add a fun sense of variety to your fitness routine.
Adjust the 3 manual incline settings to amp up your workout while keeping track of your pulse, calories, distance, time, and speed with the large 5-inch LCD backlit display. Customers award this beauty 4 out of 5 stars for its easy-peasy assembly, boredom-eliminating workout programs, and overall great value.
3. GOPLUS 2.25HP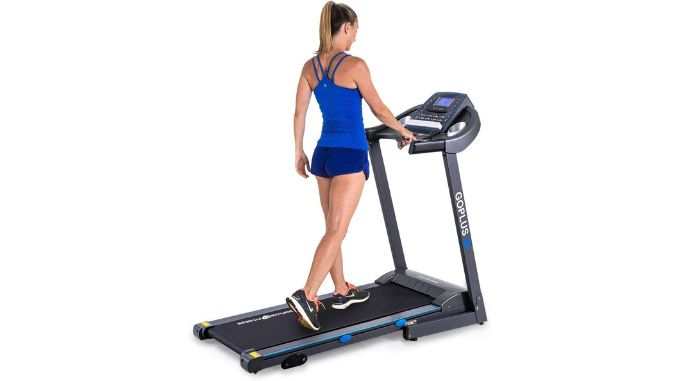 Price: $$$
The GOPLUS 2.25HP electric folding treadmill offers more than your average treadmill. With its 2.25 horsepower quiet impulse motor, users can experiment with different levels of intense interval, speed, or endurance training to suit their fitness needs. The 0.5-7.5 miles per hour speed levels and 12 varying workout programs available help you to determine the speed and routine that works best with your physical condition and exercise experience.
Customers gave this beast of a treadmill a whopping 4.5 out of 5 stars for its great value, comfort, and safety design. The 5-inch LCD backlit screen display comes equipped with an iPad or mobile phone holder so you can watch your favorite television shows or movies, listen to your favorite music, or make those important work phone calls, all while working out. The built-in Safety Key connect, and emergency stop button on the handrail provides a cushion of protection for your workout. 
4. Ancheer Folding Electric Treadmill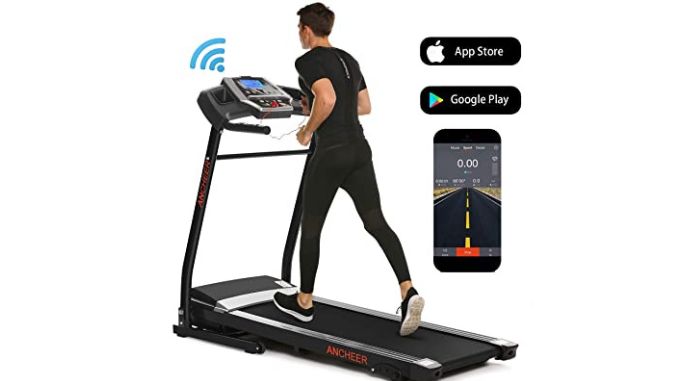 Price: $$$$
The Ancheer Folding Electric Treadmill is the first on our list to come complete with an incredibly advanced smartphone app control. Available for any iOS and Android devices via Bluetooth to help you keep track of your workout stats and progress more efficiently. This treadmill also comes with a 3-level manual incline for varying intensity levels. 12 different challenging preset training programs, a built-in safety stop, and a built-in Heart-Rate sensor to help you determine which running setting better suits your heart health needs.
Customers ranked this winning treadmill at an incredible 5 out of 5 stars for its amazing smartphone capabilities, convenient training and endurance programs, and easily foldable design. The soft drop setting and easily foldable design ensure no damage to your house floors during assembly or after each session. And every purchase comes with a 1 year guaranteed 100 percent money-back warranty if you are not fully satisfied with your treadmill. 
5. NordicTrack T 6.5S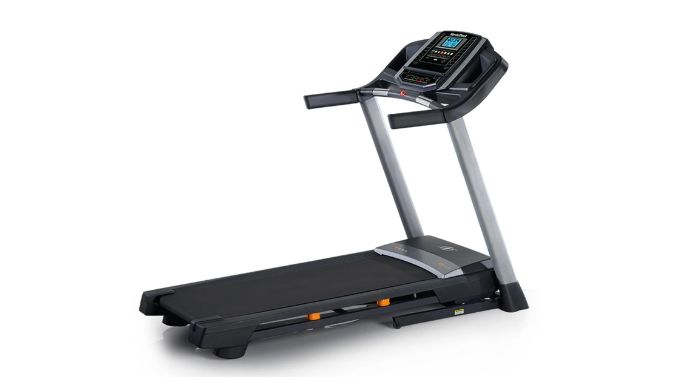 Price: $$$$
The NordicTrack T 6.5S comes in at number five on our list with an extensive list of exclusive features and add-ons. This treadmill offers access to the popular fitness website ifit.com and activates or redeems a free one-month iFit membership to unlock access to complete workout programs and various workout experiences. Within the IFit library, you'll gain access to full, downloadable workouts designed by a certified professional trainer to help you reach your fitness goals.
You also can create your custom workout using the Google Maps feature, and for an added boost of motivation, plug your iPod or MP3 device into the built-in sound system to listen to your favorite workout playlist. Customers rate this treadmill at 4 out of 5 stars for its amazing features, iFit membership access, and unbeatable quality. 
6. XTERRA Fitness TR300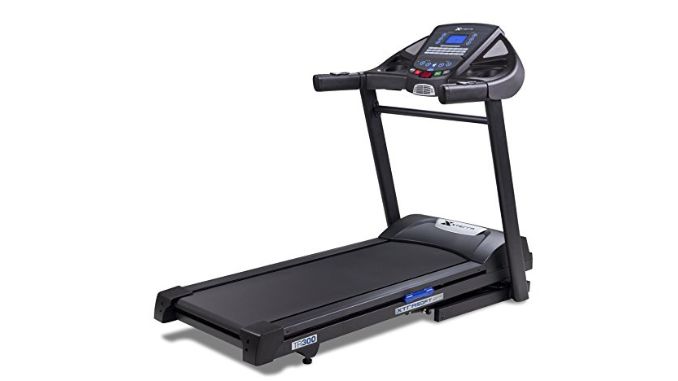 Price: $$$$$
The XTERRA makes yet another appearance on our list, this time with the TR300 Folding model. The XTERRA TR300 offers a large 20 by 50-inch walking or running surface with an added soft cushioned deck technology to minimize the stress on your joints and offer a more comfortable workout to users.
The large 5.5-inch LCD blue backlit display offers easy access to your workout stats such as; your pulse, calories burned, distance achieved, speed, time, and incline levels during your workout. With 24 preset workout programs, you can guarantee a sense of variety for all your workout needs. The remote controls to adjust your speed and incline levels are conveniently located on the handlebars for quick and easy access. Customers gave this running machine 4 out of 5 stars.
7. Horizon Fitness T101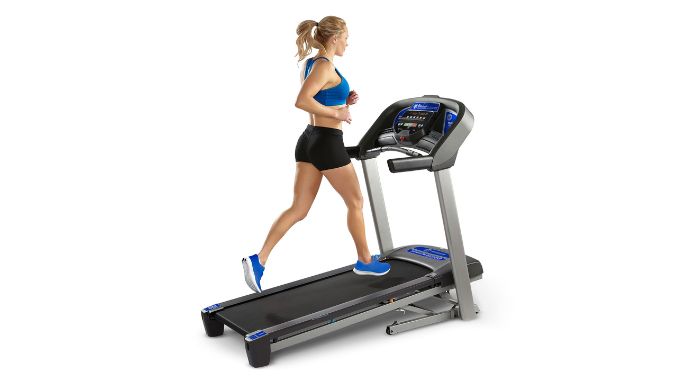 Price: $$$$$
The Horizon Fitness T101 treadmill comes in at number 7 on our list. It has an incredible lineup of available workout features. Not only is this high-class treadmill Bluetooth accessible to offer a more personalized workout experience, but it also comes with a set of built-in speakers to blast your favorite workout jams, an energy saver mode technology, a built-in fan, a rack for your tablet or smartphone devices, and a water bottle holder for all your replenishing needs.
The 2.5 CHP motor runs at a lower RPM to minimize loud noise and increase overall efficiency. The 10-speed and 10-incline keys allow you to adjust the intensity of your workout accordingly. Customers awarded this treadmill 4 out of 5 stars for its built-in features, Bluetooth access, and reliable performance value.
8. Nautilus T614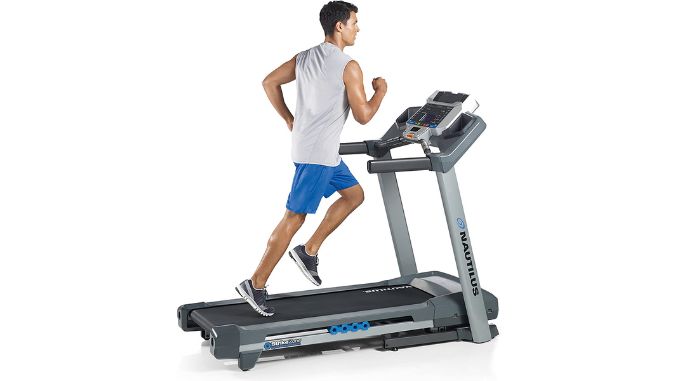 Price: $$$$$
The Nautilus T614 treadmill was designed to help you crush all your fitness goals. With 22 varying fitness programs designed around increasing your heart health, weight control, and high-intensity interval training. Both manual and custom workouts meet all your fitness needs. With goal tracking enabling capabilities that allow you to set your workout resolutions.
Customers rank this treadmill at 3.6 out of 5 stars for its high responsiveness, varying fitness workout programs, and smooth run. The built-in 2.75 CHP motor offers smooth reliability and unmatched performance for each user. The 12 percent incline capability offers intensity to any workout.
9. XTERRA Fitness TR6.6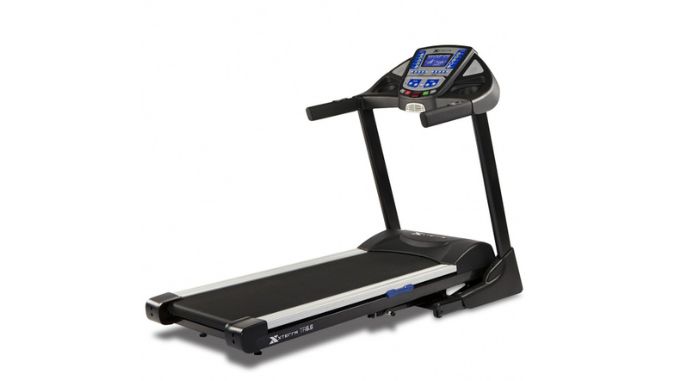 Price: $$$$$
The third time is the charm, as XTERRA claims the ninth slot on our list. The XTERRA Fitness TR6.6 has more than enough running and walking space at 20 by 60 inches. With a massive 7.5-inch, blue backlit LCD screen to help monitor your workout stats.
This treadmill claimed 3.6 out of 5 stars from users for its great quality, sleek design, and functionality. Direct access to the speed and incline controls located on the handlebars. Lift assist for easy folding, a quiet yet powerful 3.0 CHP continuous duty motor, and added extra soft cushioning for comfort. 
10. NordicTrack T 7.5 S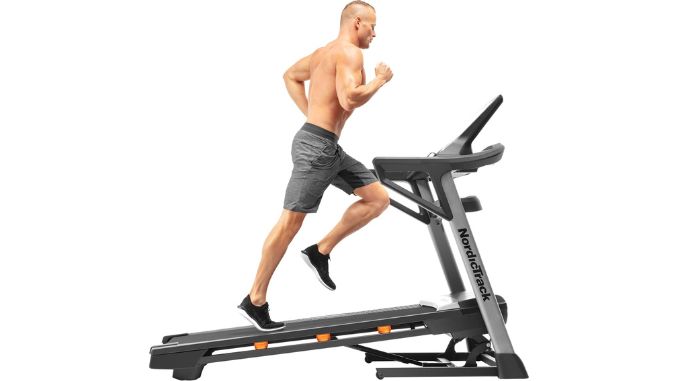 Price: $$$$$
The NordicTrack T series treadmill makes a second appearance on our list, this time with the 7.5 S model. The NordicTrack T 7.5 S treadmill has a built-in 7-inch touchscreen display with iFit capabilities. The 3.0 CHP drive system offers a smooth run, with a 20 by 60-inch walking belt and balanced non-flex rollers.
Customers awarded this beauty 4 out of 5 stars for its touchscreen display, Bluetooth capabilities, and wide range of workout materials. Go from 0 to 12 miles per hour at an impressive 12 percent incline with the digital quick speed controls. 50 preset workout apps offer an incredible range of workout variety, while the built-in auto breeze workout fan helps keep you feeling cool. Each purchase comes with a free 1-year iFit membership and an optional 3-year protection plan. 
So, which one of our treadmill picks will you add to your shopping cart? Happy running!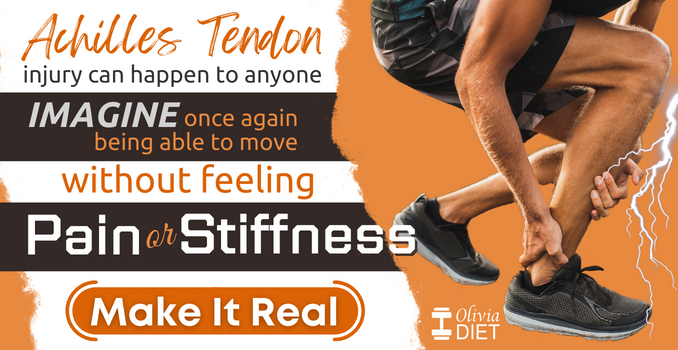 ---
Rick Kaselj MS, is a leading kinesiologist and injury specialist as well as co-creator of the best-selling Unlock Your Hip Flexors program. Rick creates exercise programs that help people heal injuries and eliminate pain, so they can go back to living a full, active, healthy life.