Last updated on January 11th, 2023 at 05:31 pm
Exercise bikes have long been a favorite for many to jump-start their day and feel energized. In this post, we listed the best indoor bikes you can buy. It's never too late to get into fitness; you can get started in your home. You now have many choices on what equipment you want to buy to work out solo. Here are some of the top ten indoor bikes you may want to consider.
Best Indoor Bikes Reviewed
1. Bladez Echelon – Price $$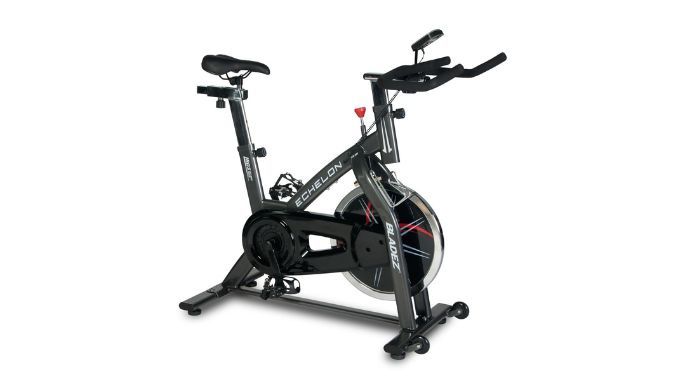 Stay fit with this durable indoor bike to keep you on your toes. The Bladez Fitness Echelon GS Indoor Cycle has a natural feel to it. At 40lb, the Flywheel is a heavyweight bike that will give you a good endurance workout. It's quiet, allowing you to work out and not wake those sleeping. You can adjust the emergency brake and access the LCD monitor display. This gives you a snapshot of your time, calories burned, and distance. The seat and handlebars are adjustable so that you can find the best fit.
2. Diamondback Fitness 510lc Indoor Cycle – Price $$$$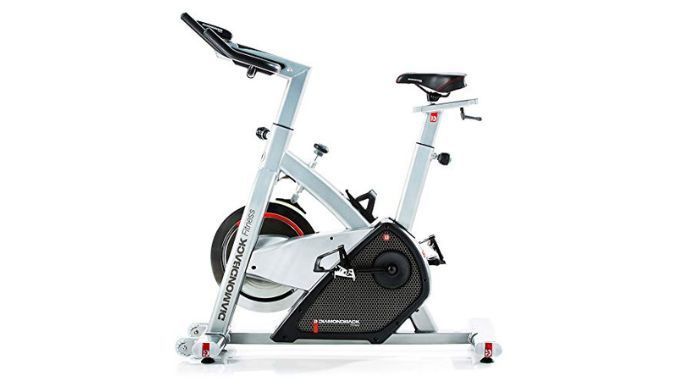 This stylish indoor bike's smooth design and impressive silent magnetic Flywheel weighing 31 pounds can start your day. The body is steel and has leveled up to 16 for resistance. Your workout choices are 14 programs, along with being able to preset 8. If your focus is on your heart rate, you can also program 4 presets. Both the seat and handlebar offer adjustment for your comfort. The entire bike can handle 300 pounds.
3. ProForm 740 ES – Price: $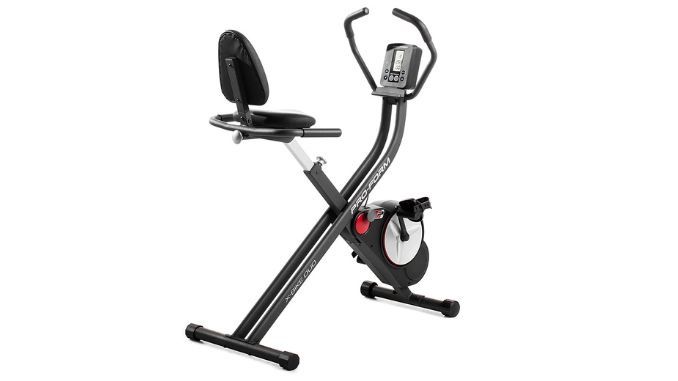 This lean bike allows you to sit upright and easily work the pedals. With 14 levels of resistance also comes with a very coma fy seat that adjusts vertically. You can move the console to your liking, along with the straps and pedals. The LCD is large, and you have access to select the 14 apps with no problem. Once you take it out of the box, it is simple to assemble. Many of us like to read something or check our phones, so this bike has a handy holder. The ProForm 740 ES comes with a 5-year warranty.
4. Nordic Track NTEX76016 – Price: $$$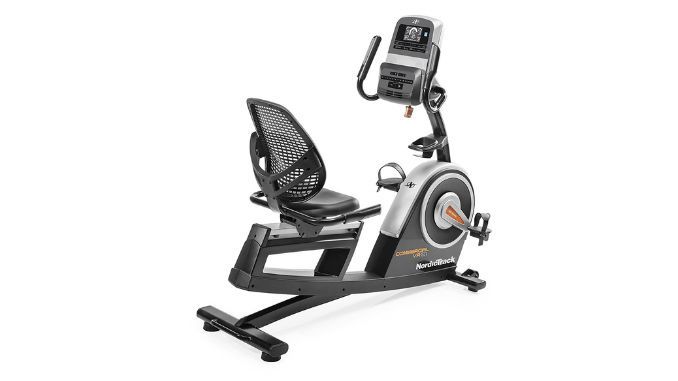 The Nordic Track NTEX76016 offers a natural movement when working the pedals, giving you a smooth fitness journey. The Autobreeze fan can cool you off as you sweat during your workout. The Flywheel is 20lbs and builds to enhance your stride. The display is 5 inches with great viewing of your calories through its wide angle and adjusting capabilities. Included is a monitor to keep you up on your heart rate; this is even compatible with wireless straps for your chest. It's loaded with 32 apps designed by fitness experts who are certified.
5. Nautilus 616 – Price: $$$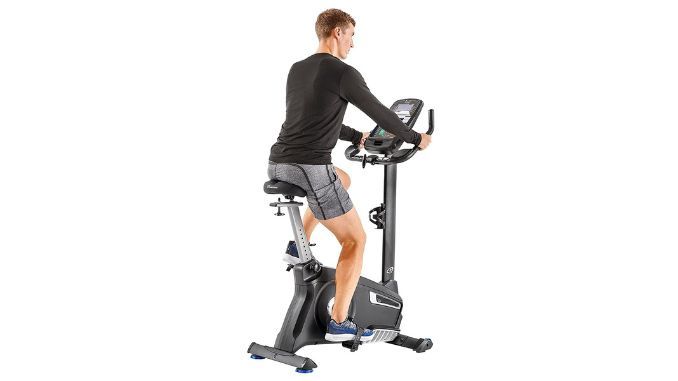 The Nautilus is an upright workout bike that allows you to connect your Bluetooth devices. You can sync into the Nautilus trainer 2 app while you track your fitness. It has a real-time feature that allows you to bike through the Ride-social app with friends. You get 29 fitness programs, including an impressive 12 profiles, two fitness tests, a quick start, 9 heart rate controls, customization of up to 4 choices, and a recovery test. This bike flies at high speed, starting easily and giving you consistency. Its LCD offers speakers for your media play, ports for input, a fan that adjusts, and USB capabilities. 
6. HARISON Pro Indoor Cycling Bike – Price: $$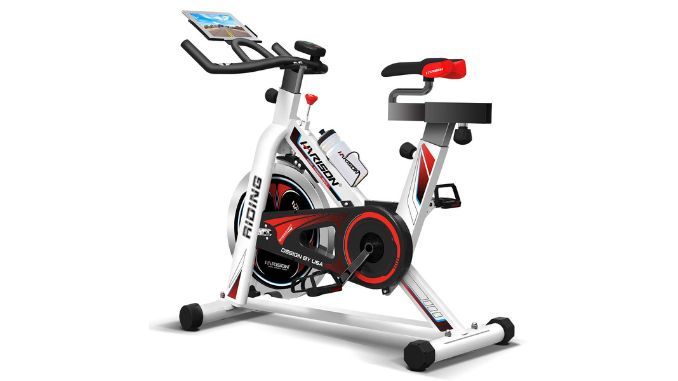 The Harison Pro Indoor Cycling Bike is solid and can handle 280lbs of weight. It's a very durable bike maxed out in stainless steel. The Flywheel is 29lbs, which keeps the sturdy frame intact. The real-time LCD gives you calories burned, recording times, scan, speed, odometer, RPM, and heart rate numbers. For convenience, a stable table holder fits an IPad so you can view all Peloton classes. The frame also supports a cell phone, magazines, or a notebook as you ride. You can adjust the seat 4 different ways and the handlebar two to match your flexibility. If the seat is not enough for you, it can easily be swapped out. The warranty goes for 30 days, and you get a 12-month guarantee.
7. ProGear 100S – Price: $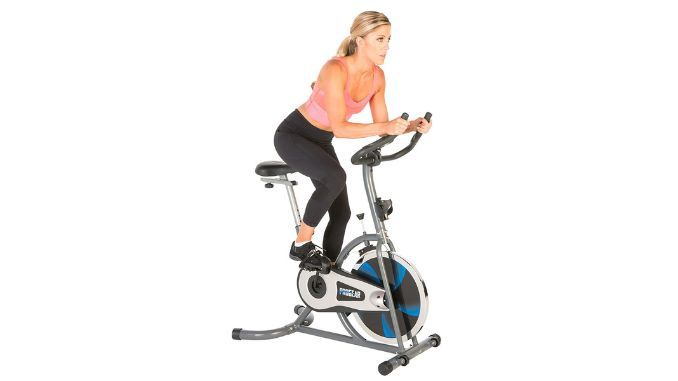 The ProGear 100S indoor exercise bike holds 250lbs of weight and is driven by a chain for a workout simulation. The seat can adjust in 4 easy ways and is comfortable with its ergonomic cushioned style. A heart pulse sensor can help you stay in the zone as you grip the handles. The bike also has an LCD monitor giving you up-to-date information such as scan, distance, speed, time, and calories. There is an ability to adjust the dial tension, giving you a more intense workout. You also get an emergency brake to stop the iron flywheel that weighs 22lbs.
8. Sunny Health & Fitness Pro Indoor Cycling Bike – Price: $$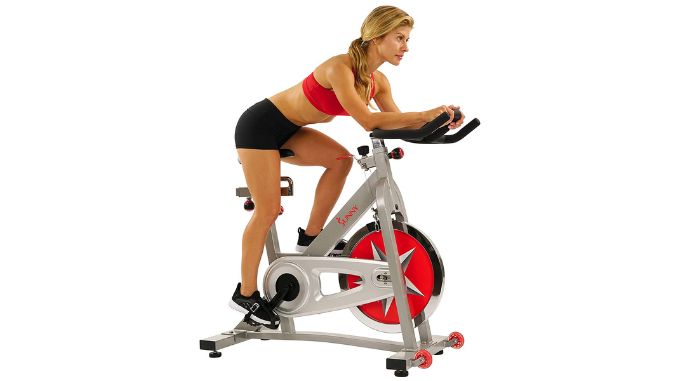 The Sunny Health & Fitness Pro Indoor Cycling bike can choose between a belt or chain. The chain one has a flywheel weighing about 40lbs and has sturdy momentum when you are working out hard. It is supportable with its strong frame and can handle fast speeds. You get two resistance options where you can increase the amount you want or stop the wheel at the pedals. It does have a built-in micro knob that allows you to go up and down when trying to figure out your resistance levels.
The ergonomic handlebars are adjustable and can fit many riding maneuvers for a lot of different riders. You can move the handlebars either up or down, depending on what works for you. As for your height, the bike can be adjusted no matter if you are 4″ or 6″ tall. The seat gives you this opportunity with its 4 adjustable options. To prevent wobbling while you bike, the Sunny Health & Fitness Pro Indoor Cycle has a stabilizer that stops wiggling or jerking during your ride.
9. Keiser M3i Indoor Cycle – Price: $$$$$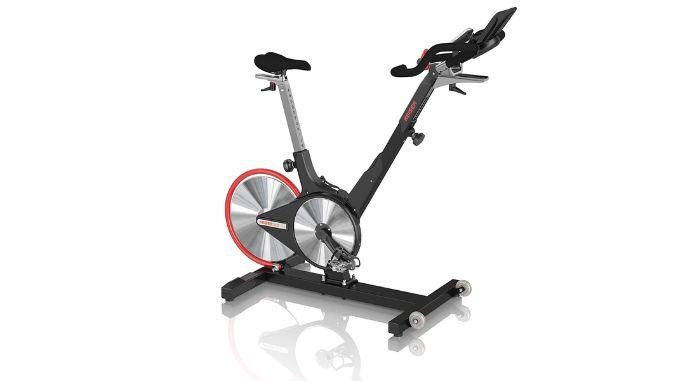 The Keiser M3i Indoor cycle is on the advanced side for serious riders. However, it's not to say you can't start with this beauty of a bike. Inside the box, you get the cycle, a floor mat, stretch pads, and a media tray. Its flexible frame allows you to copy the style of a road bike with its adjustable handlebars and seat. It can handle anyone in the range of 4 to 7 feet tall. You can plug in Bluetooth devices that interact with the bike's Keiser M Series app. Learn and train in graphs that run in real-time. It tracks flange dials, heart rate, workout programs, and FTP zones. The body is durable and has a slick look to it. You have little maintenance to do with the Keiser M3i Indoor Cycle, specifically made in the United States.
10. Spinning 10-005 S P1 Indoor – Price: $$$$$$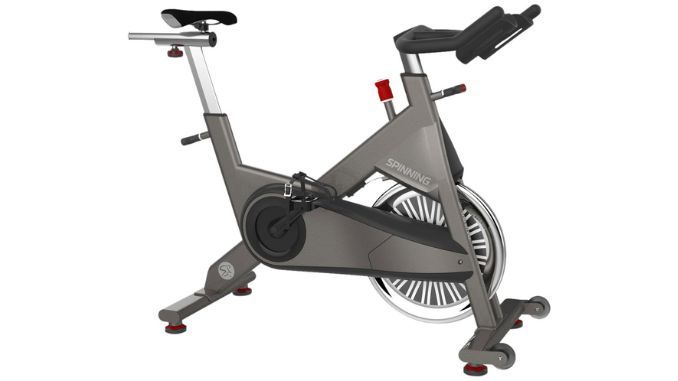 The Spinning 10-005 S P1 indoor cycle has a fully adjustable seat and gives you a comfy fit while biking. The pedals are dual-sided, and the Flywheel weighs 40lbs. You get a stabilizer that keeps you from falling off the bike as you stand. The entire steel frame has a shiny coat to it. Moving from a home gym to another location is easy, especially if you need to transport the wheels.
11. Marcy Club Revolution Cycle Trainer – Price: $$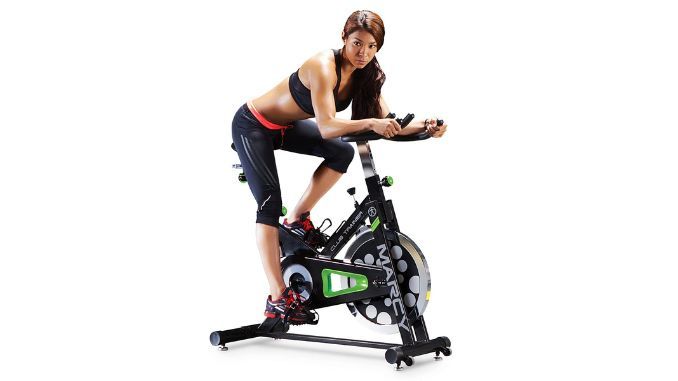 With the Marcy Club Revolution Cycle trainer, you are guaranteed to have a serious cardio experience. It is designed to deal with intense rides as a stationary bike. The frame is made from durable steel, so it never rusts or breaks down. You will sit on a nice ergonomic seat that can move horizontally or vertically while feeling like other road bikes. It has rubber foam handlebars with vertical adjustments. It can support 300lbs while you ride in a stand-up position. You can stop in seconds with its easy-to-use mechanism to brake on the wheel.
12. Sole Fitness Sb700 – Price: $$$$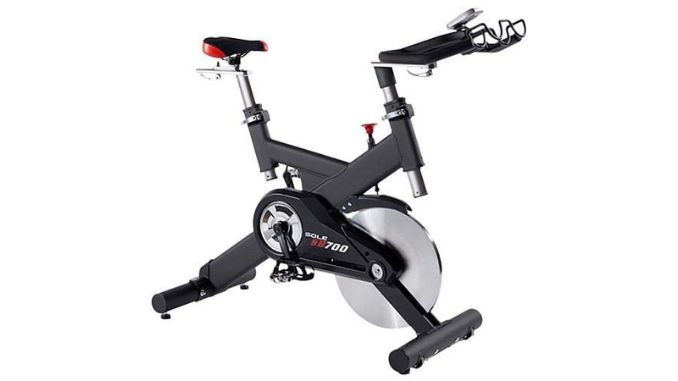 The Sole Fitness Sb700 offers various handlebar and seat adjustments. Its Flywheel is 48lbs, giving your silence and good resistance. It's comfortable with a well-padded seat if you choose to go a long distance. The LCD console gives you an accurate view of your distance, heart rate, speed, time, and RPM. The frame comes with a lifetime warranty. 
13. Schwinn IC3 Indoor Cycling Bike – Price: $$$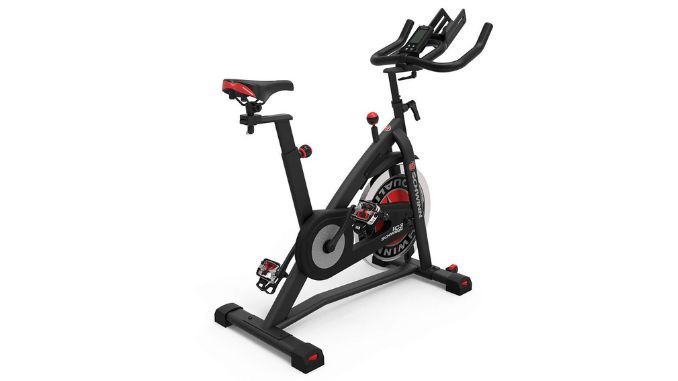 The Schwinn IC3 Indoor Cycling Bike is a slick design with a 40lb flywheel that offers a silent ride for those early morning weight loss workouts. The pedals are dual, where your feet fit snugly in the clips and cages. Your seat is designed as a racer-style fit and is completely adjustable. A holder can handle a large water bottle and hold any media you might have. 
14. Exerpeutic LX7 Training Cycle – Price: $$
This is a great solid bike that has impressive features that fit with anyone's workout. Its frame can hold the heavy user and gives you the best support whether you prefer to stand or sit. You get handlebars that give you a firm grip as they are padded in foam. The Exerpeutic LX7 Training cycle keeps you very secure as you adjust the seat and bars to your workout. The overall frame is heavy with a sturdy flywheel to match. You can easily adjust the resistance to what you need in any increments. The chain drive is unique in that it may need little maintenance to ensure there is no rusting or corrosion. 
15. FitDesk v3.0 – Price: $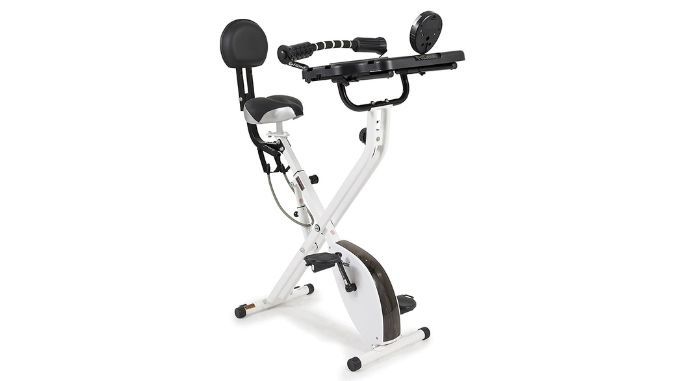 The FitDesk v3.o sounds exactly what you would expect. This is an indoor bike that lets you work while you work out. It sounds too good to be true, but if you are one of those people who find it hard to stop working on getting fit, then this is for you. It's a multitasking dream, and the equipment lives up to its name. You can place the FitDesk v3.0 in the corner of a room because it is lightweight. The desk can handle any size laptop that gives you extensions so you can stretch out.
This smart fit bike is also available for those working from their tablet. You get resistance bands that can keep you fit in areas such as the chest, arms, and back. It gives you a choice of eight magnetic levels that you can adjust at your will. If you try to get a workout in before you wake the baby, this bike gives you a smooth, quiet ride.
Hopefully, this list can help you start looking for an excellent indoor cycle to fit your workout needs.
There is something for everyone, and it doesn't matter if you are starting out or in your prime. These indoor exercise bikes offer a list of features that are certainly impressive and don't break your wallet too much.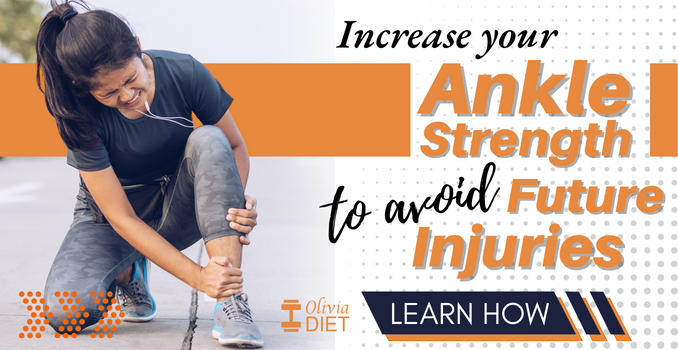 ---
Rick Kaselj MS, is a leading kinesiologist and injury specialist as well as co-creator of the best-selling Unlock Your Hip Flexors program. Rick creates exercise programs that help people heal injuries and eliminate pain, so they can go back to living a full, active, healthy life.