In this post, we review the best weight-gainer proteins for bulking. If you find that no matter what you eat, you can't seem to gain weight, then you probably have a naturally high metabolism. This makes putting on weight a difficult thing to do. This is not good if you aim to build muscle mass in the gym. However, addressing this issue is easier than you may think.
It would help if you ate more calories than your body burns. The bigger the caloric surplus, the more weight you will gain. This is where weight gainer protein comes in. These protein powders are designed to give you all the essential nutrients while consuming as many calories as possible.
Top 10 Best Weight Gainer Proteins
1. Optimum Nutrition Serious Mass Gainer Protein Powder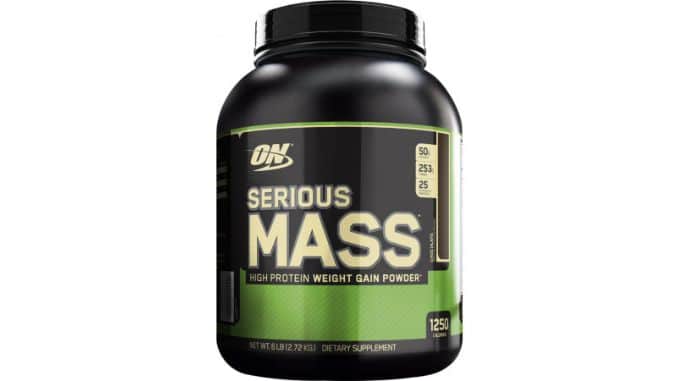 This mass gainer protein by optimum nutrition is certainly one of them… if not the best weight gainer proteins you can get. It mixes easily and tastes great. It comes in various flavors, including vanilla, banana, peanut butter, chocolate, and strawberry. The mass gainer is very calorie dense, as you would expect. Each 2-scoop serving will contain 1250 calories. It also includes other nutrients to help you develop lean muscle mass, including 25 vitamins, minerals, glutamine, and creatine. Adding this protein powder to your diet will seriously gain a lot of mass.
2. BSN True Mass
Another great weight gainer protein that tastes great. This weight gainer works great straight after your workout. Every serving has over 700 calories, consisting of 50g of protein and 90g of carbs. On top of that, the True Mass by BSN contains 10g of BCAA and 5g of fiber per serving. This ensures you get everything you need in your protein powder. The different flavors it comes in are also very tasty. They include chocolate milkshakes, cookies and cream, strawberry milkshakes, and a few others. Overall this mass gainer produces high-quality, creamy shakes and will help you reach your calorie goals.
3. Dymatize Super Mass Gainer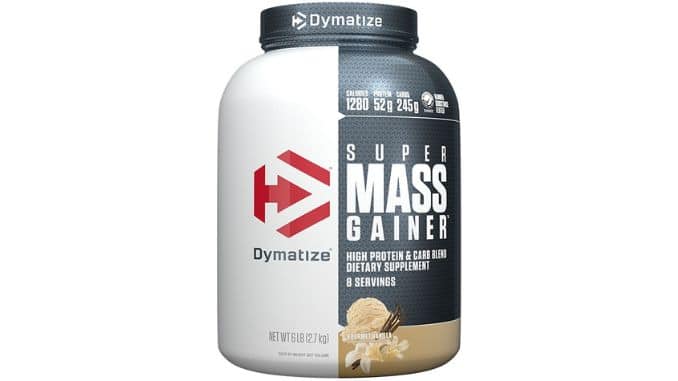 If you want a weight gainer protein that gives you slightly more value for your money, then you should consider the Dymatize super mass gainer. It is not the best mixing protein shake; however, it tastes great in particular flavors. Overall good product that gives you all the nutrients you need to put on size and muscle. Every serving contains 1300 calories, of that 52g is protein. The super mass gainer by Dymatize also includes 17g of BCAAs, essential building blocks that will help you activate muscle protein synthesis.
4. LESS NAKED MASS – All Natural Weight Gainer Protein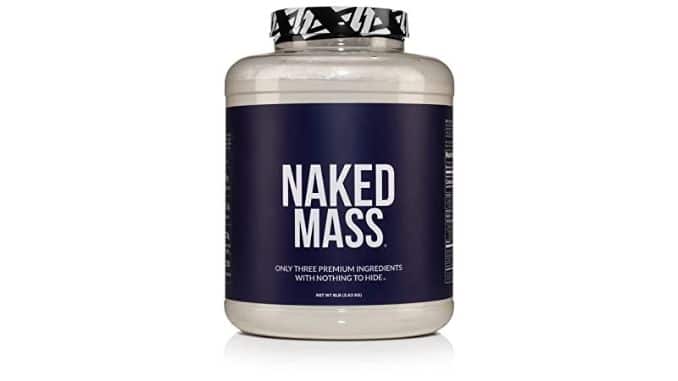 The less naked MASS protein powder is an all-natural protein made with only 5 ingredients. It comes with no artificial sweeteners, flavors, or colors. It is gluten-free, soy-free, and GMO-free. So you know exactly what you're putting in your body. Each serving gives you 50g of protein, 11.6g of BCAAs, and 250g of carbs. All of which consist of 1360 calories. Great for hard gainers. The protein also mixes well and tastes great. It is slightly more limited in terms of flavors than other protein shakes on the list. It only comes in 3 flavors: chocolate, vanilla and unflavored.
5. MusclePharm Combat Mass Gainer Powder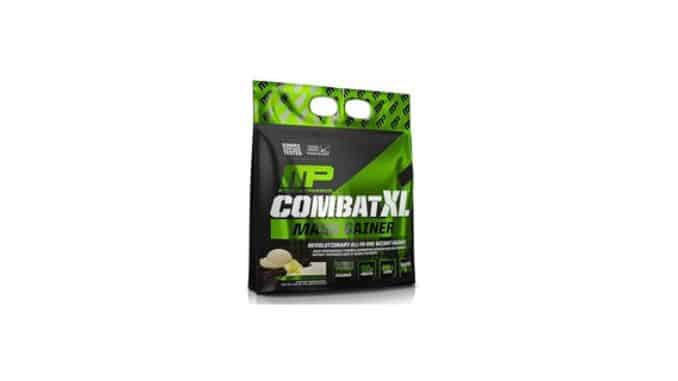 This mass gainer by Musclepharm comes in 3 flavors. It is another great go-to dense nutritious shake. You can have it as a post-workout or anytime between meals to help you reach your calorie goals. This whey protein is 1270 calories: 50g of protein and 252g of carbs. It is also gluten-free. The only downside is that the shake can be slightly thicker than expected, and cholesterol is pretty high.
6. Universal Nutrition Animal Mass Supplement
The universal nutrition animal mass supplement comes in 3 flavors, cookies and cream, chocolate, and vanilla. It gives you 60g of protein per serving. This weight gainer protein also gives you complex carbs and EFA's. It is a good-tasting protein powder and tastes similar to a milkshake if you mix it with milk or even almond milk. If you get the 5lb bag, it will easily last a very long time. Overall great mass gainer with a good carb-to-protein ratio.
7. BPI Sports Bulk Muscle Protein Powder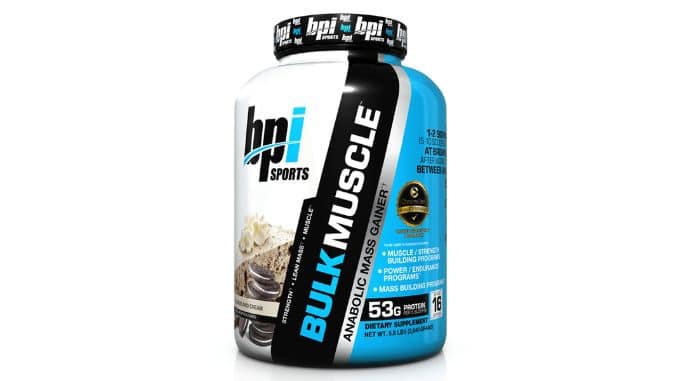 The BPI is another one of the best weight-gainer proteins you should try. Each serving gives you a reasonable 53g of protein. Keep in mind this mass gained contains both milk and soy. It gives you 5.7g of BCAAs to further support your muscle-building efforts, which help reduce muscle breakdown. The flavors are great. It comes in chocolate peanut butter, cookies, cream, and whipped vanilla. Also, this mass gainer is reasonably priced and offers good value for money.
8. MuscleTech Mass-Tech Extreme Weight Gainer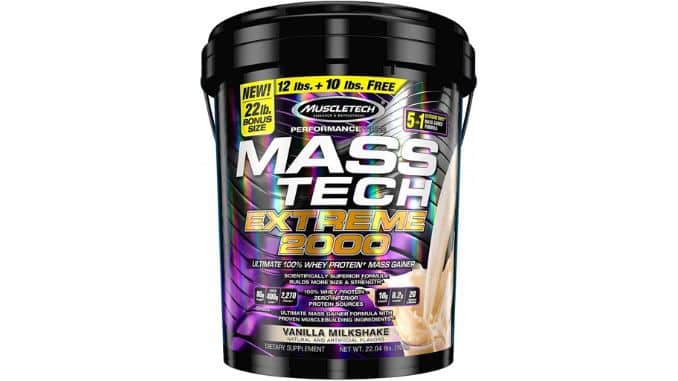 This weight-gainer protein is made out of 100% whey protein. Let's start by saying the tub is huge. It comes in 22 lbs, which I'm sure you can agree, is impressive. It gives you up to 80 g of protein when mixed with milk and an impressive 2000 calories. If you are a serious hard gainer and can't seem to put on mass whatever you try. Then I strongly suggest you try this. Overall a great protein powder for those who want to gain serious mass.
9. Body Fortress Super Advanced Mass Gainer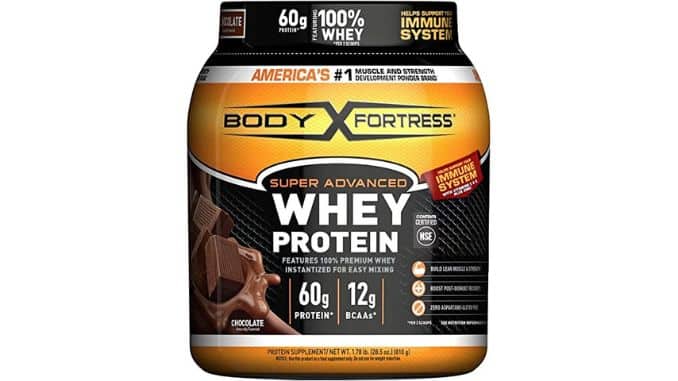 One of the best weight gainer proteins with amazing value for money. The body fortress mass gainer gives you 40g of premium protein, 2000 calories, and 200g of carbs per serving. It tastes great with milk or even water. On top of that, it provides you with 8g of BCAAs. It comes in several flavors, such as cookies and cream, chocolate, vanilla, and others. The only downside to this is that you need 2 scoops per serving which means the box will finish more quickly.
The mass gainer protein by Cytosport is designed specifically for muscle growth after exercise. Every scoop gives you a good 50g of protein and 800 calories. Which should be enough for those that need to stay on a high-calorie diet. The protein also blends reasonably well. Overall reasonably priced, a great-tasting protein that should support you while bulking.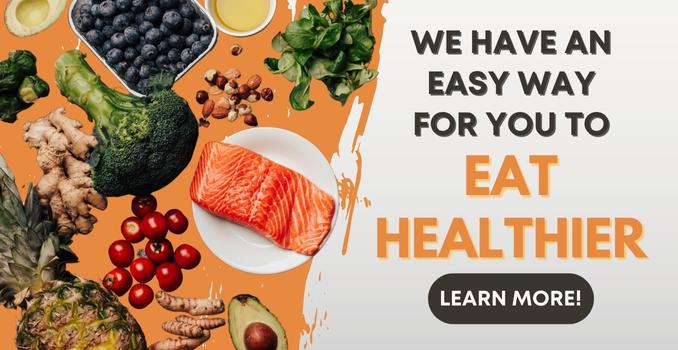 ---